Thanks to Marv Larue and the New Carlisle Community Reserve
Today I wish to acknowledge and salute Marv Larue and his organization known as the New Carlisle Community Reserve who have helped our families on several occasions begin their journey of self-sufficiency (you have seen me mention them in many of my Family Success Stories).  They are part of the Faith in Action Committee of the New Carlisle Wesleyan Church. This volunteer group works to generate donations of gently used furniture and household items. The donations are stored in the C.R.I.B (Community Reserve Inventory Barn).
The Community Reserve gives its inventory free of charge to victims of fires, divorce, domestic violence, sickness, job loss, homelessness, and others in need. They find their clients through agencies such as Sand Castle Shelter and many others. Once approved through the initiating agency, clients go to the CRIB and take whatever they need (one truck, one trip rule). To date, they have used over 20 agencies and in four years of operation  have given to almost 200 clients, including Sand Castle Families. THANK YOU MARV, THE CRIB ROCKS.
Click to view larger images
---
Sand Castle Shelter would like to offer a very special thank you to two organizations who have contributed to make this Halloween season very special for our residents.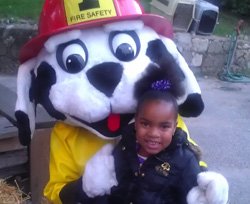 Captain Ed's.  The first shout out goes to our good friends at Captain Ed's, who donated over 25 costumes, masks, face paint, wigs, pumpkin baskets and tickets so that all residents, especially the children, could enjoy the festivities at Michigan City's "Boo at the Zoo".  It was exciting to watch the families create their costumes and get ready for the event.  To say that the families had a GREAT time, would be an understatement.  Thank you, Captain Ed, for making this holiday very special for the families who grace our facility.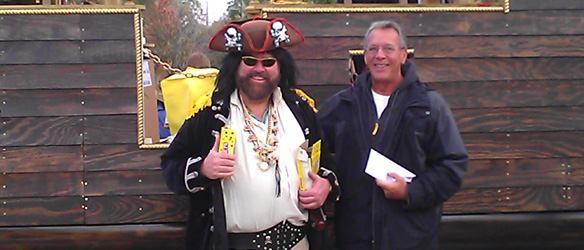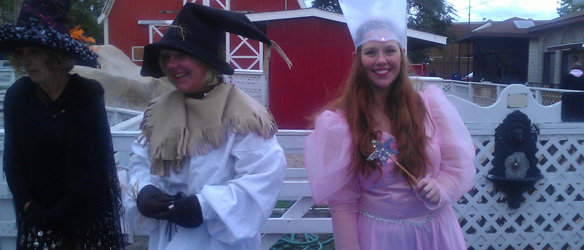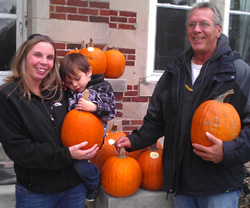 UBS Financial Services. We also want to send out a very big and heartfelt thank you to UBS Financial Services Inc. of Chicago for their continued generosity and support of our families here at Sand Castle Shelter. Among other donations and a pledge to help sponsor our Holiday Season, UBS representative Jennifer Espinoza, her husband Bobby and their beautiful son Jonathan, stopped by Sand Castle on Saturday, October 26, to drop off fourteen pumpkins (one for each child residing at Sand Castle) on behalf of Madison Street Financial Advisors, for carving and decorating in advance of Halloween. UBS's continued outpouring of support to our families, who are working very hard to regain independence), is certainly heartwarming and inspirational. Thank you to our friends at UBS.
---
A Special Thank You to Williams Orchard of LaPorte, Indiana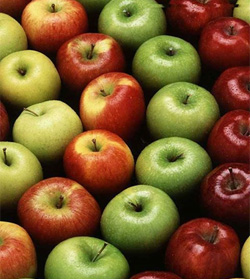 A special thank you is sent to Williams Orchard of LaPorte Indiana and our good friend Pam Williams. The Williams Orchard has been very generous To Sand Castle Shelter for Homeless Families over the years, and 2013 was certainly no exception.
When fall was upon us, Williams Orchard made donations of their wonderful apples on three separate occasion. And in their spirit to help feed those in need, Pam also generously agreed to provide additional donations for the benefit of Stepping Stones Shelter, Kids-R-Kids Daycare, the Grace Learning Center and the Men's Overnight Emergency Shelter at Sacred Hearts Church in Michigan City.
We appreciate your partnership and what you do for the families and children who seek out our assistance. Thanks Pam.
---
Benefit Concert at the Notre Dame Church
On Sunday, November 10, 2013, the Notre Dame Music Ministry and the Peace and Social Justice Commission hosted a benefit concert at the Notre Dame Church in Michigan City. Monetary donations were collected for the benefit of Sand Castle Shelter for Homeless Families in Michigan City, and food donations were collected for the benefit of the Michigan City food pantries programs.
This two hour event highlighted the wonderful talents of Fiddler's Two, an extraordinary musical ensemble, and beautiful performances by the Sacred Heart Apostolic Choir, a solo by Frank Casorio (accompanied by Lee Meyer), a piano Sonata by Fernando Zamora, the St. Francis Xavier Choir and the Marian Devotional Choir.  The concert concluded with an inspirational song called "The Blessing", performed by Michelle Alexander, Choir Director at Notre Dame Church and the concerts principal organizer.
With the public invitation stating that, for admission, one only needed to "bring your giving hearts", the public responded with several hundred dollars for Sand Castle Shelter for Homeless Families and several hundred pounds of food for the Michigan City food pantry programs. Our organization is delighted for the generous donations of the concert goers, but also for the continued outpouring of public support and compassion of the citizens of our community toward our residents who are most in need during this most difficult time.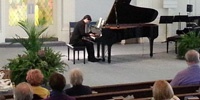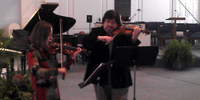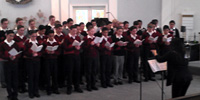 ---
Citizens Concerned for the Homeless Summer Celebration
On Saturday, June 22, 2013, Citizens Concerned for the Homeless hosted it's Summer Celebration, a street fair designed to raise awareness of homelessness and low literacy in our community.  Games, food, music, clowns and a special visit from Mickey and Minnie Mouse highlighted the festivities.  The children attending were treated to face painting, balloon animals and endless fun in the "moon jump" provided for their entertainment.
"It was wonderful to see such a great turnout and to witness the joy of the children", said Jim Musial, Executive Director of Sand Castle Shelter for Homeless Families, one of CCH's multiple programs.  The adults were also given tours of the Sand Castle Shelter. "It is important the community witness the programs of self help we offer at Sand Castle and to see the facility first hand", added Musial.
In addition, all were invited to tour the Grace Learning Center, another program of CCH.  Kristen Patterson, Executive Director of GLC, suggested that "many individuals in our community, often lacking even a high school diploma, have little chance of succeeding – working their way to self-sufficiency and out of poverty. Providing opportunities for more skills training and education has been an important long term goal of Grace Learning Center".
CCH wishes to thank all of the sponsors and the army of volunteers who made this event possible.  More information on how you can help continue these programs of hope through donation and volunteering can be found at the CCH website.
Click on images to view larger.
We need the help of a few good cooks. We'd like to give the residents good, nutritious dinners. You can prepare the food in your own kitchen on your own timetable. Call Jim at 879-2552 to talk about it.
Board changes: Ric Federighi has retired from the board, due to excessive time limitations, but he will continue to work closely with CCH. Two new officers were elected for the new calendar year: Nancy Philippi (President), Lillian Sherrod-Young (Vice President), while Denita Ton and Tom McCormick will continue as Secretary and Treasurer, respectively.
---
MR. STASKA AT HORIZON BANK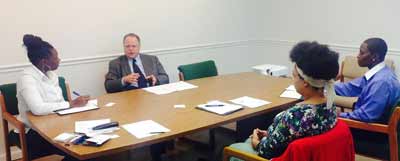 Last week, our month-long Job Preparation and Retention Program got a visit from Horizon Bank's VP of Human Resources. The ladies couldn't write down enough notes. Just another way Horizon is constantly giving back to the community and helping Grace Learning Center thrive. We are so thankful to Mr. Staska and all the other HR reps who have committed to giving up their time and talents to help the citizens of La Porte County.
---
TEN YEAR OLD LINDA WILL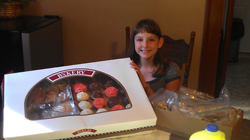 Most 10 year olds spend the final weeks of their summer vacations swimming, riding bikes and enjoying other summer activities in their final days of freedom before school begins.  Not so for ten year old Linda Will of Michigan City.  For the past three years, Linda has organized and conducted a bake sale and donation drive for the benefit of a local cause.
On Saturday, August 10, Linda, her Mother Kara and Grandmother Anita Henn, held their third annual event, this year  for the benefit of Sand Castle Shelter.  In addition to raising $110, they also collected and delivered to Sand Castle baked goodies and much needed school supplies, diapers, paper products and other products for the benefit of the residents.
Linda, on her own initiative and not as part of a school or organization project, has recognized needs in this community and has taken specific action to address them.  Her sense of humanity and community involvement needs to be recognized and applauded.  The children truly are our future, and this act bodes well for all of us.
---
EAGLE SCOUT CANDITATE RYAN BAUSBACK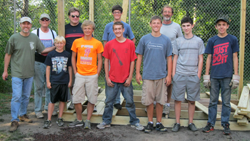 For the better part of the last 6 months, Ryan Bausback has been working on a project to obtain his Eagle Scout certification.  He chose to partner with Sand Castle Shelter and to design, obtain materials and build a gazebo for the shelter's back yard.  Now completed, this will provide a comfortable setting in which the parents can observe their children playing on the shelter's swing set or otherwise playing in the back yard.  This also provides a place where families can eat, relax or otherwise be protected from the elements.  Ryan took this project from concept to design to construction in a relatively short period of time, considering he is only 15 years old.  Ryan assembled a construction team comprised of his father Henry, his Grandfather John as well as other Eagle Scouts, Eagle Scout candidates and their families.  Once the building permit was obtained from the Building Department of Michigan City, Ryan and his team constructed the gazebo on August 23 and 24th. Ryan showed incredible focus and determination is working through the various obstacles to construct any structure in Michigan City, and learned the various approvals that must be obtained and how to troubleshoot once obstacles presented themselves.  He also showed the meaning of compassion and community involvement
---
PURDUE UNIVERSITY COOPERATIVE EXTENSION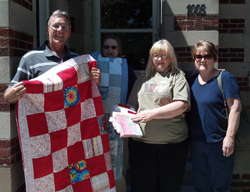 The Purdue University Cooperative Extension first approached Sand Castle Shelter for Homeless Families in May of this year.  They wanted to donate some home made quilts their organization had made from donated fabric for the beds of the shelter.  After some discussion, a program was developed.  The Extension Homemaker group would provide replenishment of the quilts every couple of months for distribution to the residents, particularly the children, upon their arrival.  There are times the children are a little unsettled about a new environment, especially community living.  The children are given their own colorful quilt upon enrollment, a comfort quilt which is all their own, something to hold on to and snuggle with during their stay at Sand Castle.  Upon graduation of the program, the quilt is theirs to keep.  It is a beautiful sight watching the children receive and tote around their personal quilt while they are at the shelter.  It certainly makes them feel welcome and secure while staying with us.
UPDATE: The lovely ladies of the Purdue Cooperative Extension Homemaker Group paid a visit to Sand Castle on September 5, 2013. As part of our ongoing partnership, they presented to SCS fourteen beautiful home made quilts and eight colorful homemade pillowcases. As always, their work means so very much to the residents, especially the children, who receive these gifts at enrollment (see story above).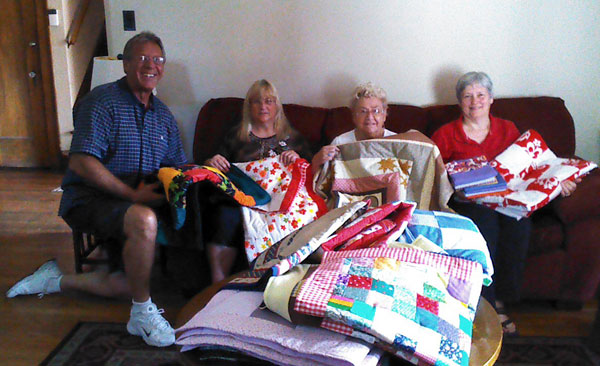 Pictured left to right, Jim Musial (SCS Executive Director) and Extension Homemaker
members Peggy Grzesiowski, Phyllis Ekovich and Janet Gourley
---
1st CHURCH OF THE NAZARENE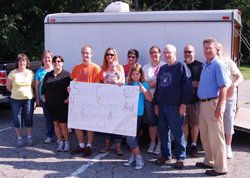 On August 17, 1st Church of the Nazarene brought 22 parishioners to learn the programs of Sand Castle to aid in their development of a family shelter they plan on opening in LaPorte, filling a large void in their community.  The also ran a donation drive for various items on the Shelter's wish list.  A ten foot trailer filled with blankets, clothes, books and housewares (for the Shelter's House ware's Program aiding families when they leave) was delivered by the Church with a pledge to do similar pledges on a regular basis. They are also going to be providing individual and group volunteers from time to time.