Our History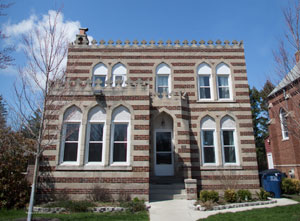 Citizens Concerned for the Homeless was created in 1992 to address the "invisible" crisis of homeless children and families in our community. Opening the doors on 9th Street in 1994, we have been able to provide La Porte County families the dignity of a private room, meals, and help. In 2007 we received the donation and blessing of the former Sacred Heart Church Rectory – allowing us to double our capacity.
CCH opened Grace Learning Center in 2011, allowing for long term learning solutions to poverty, and in 2015, opened Keys to Hope Community Resource Center, allowing for those experiencing homelessness to have access to case management and resources through a centralized access point.
---
Our Vision
We are working to realize our vision: a home for everyone in LaPorte County.
---
Our Mission
Our mission is to provide short-term drug and alcohol free shelter to homeless families, assist in securing permanent housing for these families and provide opportunities to build a skill set to maintain stable housing.
---
Our Values
To be effective, we will address the needs of the entire family and they must demonstrate willingness in taking steps toward self-sufficiency. In return for the families' commitment, time and energy, we offer our services free of charge Working as partners with other organizations is a necessary element of delivering quality programs and services We will raise awareness about the needs of homeless families and work to shape public policy towards helping these families.
---
Our Goals
Our goal is to help families achieve long-term self-sufficiency and to permanently break the cycle of homelessness so they never again have to turn to shelters for safe housing.
---
The Challenge
Each year, over 1000 LaPorte County residents experience homelessness. More than 40% are children with their parents. Some sleep in a car, tent or other tenuous locations. Most live "friend-to-friend", staying with one friend or relative after another. Usually, homeless families move frequently, making school attendance and employment difficult and sporadic. They must often put up with overcrowding, violence or substance abuse, simply because there are no other housing options. Amid these many obstacles and stresses, personal problems grow larger and the family cannot overcome their desperate situation.
---
How We Meet It
Please click the links below to learn more about what we offer:
---
Newsletters